Services
Quintra offers you services from the entire IT spectrum:
Optimization and support of business processes through individual software
Workflow-based applications
Internet security / pentesting
Compliance tests, End-to-End tests, funtional tests, unit tests
SEO (search engine optimization)
Concept and design of internet / intranet applications, UX tests
Responsive design, web 2.0 technologies
CMS configuration (WordPress, Typo3)
Implementation of legal requirements and guidelines (GDPR, BITV 2.0, WCAG 2.1)
Interface solutions (SAP oscare®, REST-API, SOAP)
Collaboration solution with Nextcloud Talk and High Performance Backend
Application monitoring using Nagios and Icinga
KPI (Key Performance Indicators) and visualization using Elastic Stack, Logstash and Kibana (ELK Stack)
Project flow
The process for implementing a specific customer project could look as follows: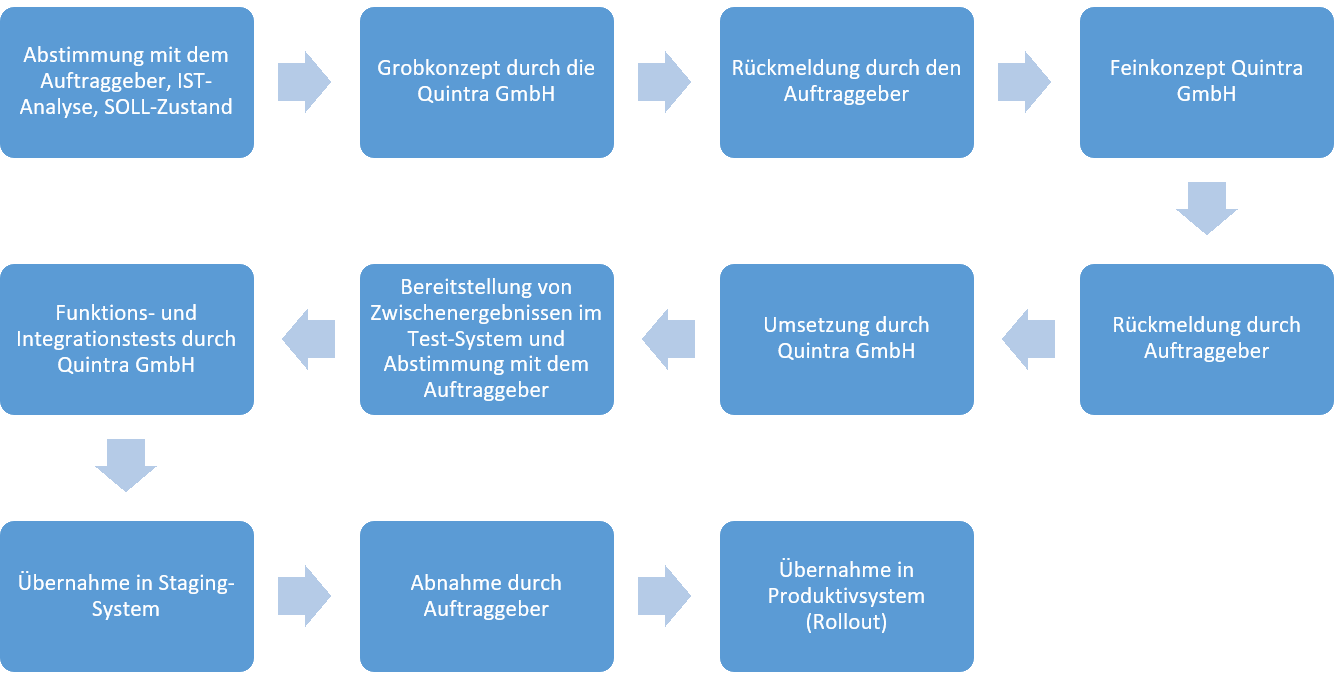 Workflow systems
With workflow systems, operational processes can be significantly professionalized. They map business processes and support them with powerful infrastructure. Our company has many years of experience in the development of high-quality industry and customer-specific workflow systems. It is only through close cooperation with the customer during the development process that an application is created which perfomance can unfold during its operation.
Services:
Automate common and time-consuming business processes
Reduce lead times of work processes significantly
Integration of existing customer systems (accounting, KISS, warehousing)
Automatically get the right message for the right people at the right time
Online access to data of the respective levels in the company in real time
Automated data provision for controlling and management
Customer benefits:
Process streamlining
Enhanced process controllability
Optimization potential transparency
SAP - OSCARE® connection
oscare® is the GKV industry solution implemented by AOK-Systems, based on mySAP and "SAP® for Insurance", for mapping the entire GKV business processes (see http://www.aok-systems.de/produkte/oscare-highlights.html)

Quintra has successfully linked AOK-Bayern's rehabilitation case management (ARGuS) to oscare®.
The following technologies were used to connect to oscare®
Use of the business functions via BAPI (business application programming interfaces)
RFC
WebServices
The coordination with the specialist departments, AOK Systems and the connection was based on the interface specification Reha-DTA according to §301 SGB V (inspired by www.gkv-datenaustausch.de/Aktuell_KH_TA.gkvnet).